Manchester Crown Courts
Equipment
7 x Tempair Heat Pumps
Total air volume: 17m3/s
Serving: Individual Courts
Control: CO2, VAV, additional LPHW, room temp control
There was a requirement to update the existing air flow systems housed in the basement of the courts without any disruption to legal proceedings.
This was a major project with many complicated aspects, particularly as the supply of LPHW (low pressure hot water) and chilled water were reliant on the existing plant.
One option was to remove the existing equipment and replace with units that could be taken to the basement as flat pack parts and build in situ. However, this was judged to be too disruptive to legal proceedings and any site work would be out of normal hours.
The best solution was to position seven self-contained packaged heat pumps with heat recovery, on the roof. Each unit would meet the heating and cooling requirements of an individual court and ensure the correct supply of fresh air.
The Tempair units were supplied in one piece and commissioned at the factory prior to delivery. Not only was this far easier to install than working in the basement, but it meant that Air Source could undertake construction, wiring, installation of the refrigerant system and full testing of the equipment off-site, then deliver the units complete ready for ductwork installation, mains power and interfacing with the site BMS.
Full commissioning checks of the controls and refrigeration system took place prior to despatch, reducing the possibility of problems on site.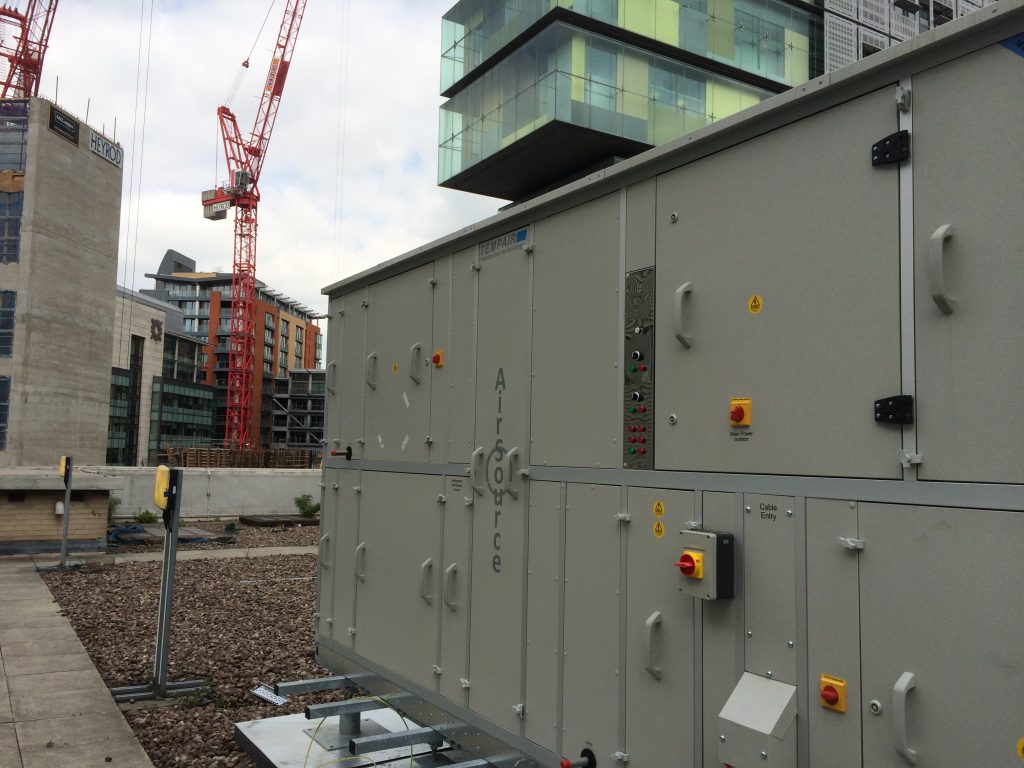 Brent Civic Centre
Equipment
9 x Tempair units
Total fresh air supply: 41m3/s
Serving: Community Hall, Training suite, Library, Wedding/registrars office, Civic Hall, Common room, offices, Winter Garden.
Control variations: VAV, constant volume, constant supply air temperature, return air temperature
Commissioned in 2013
The original design included standard AHU's with LPHW heating coils and cooling coils supplied with water from the central chiller system. The AHU's were positioned in two locations, a plantroom on top of the main drum shaped council chamber and in the basement car park plant room.
The plant room area on top of the drum was confined to the perimeter areas to allow for the height of the ceiling, resulting in the AHU's forming a circle. This presented a problem with installing the amount of heating and cooling pipework required in such a small area between the drum ceiling and the plant.
The Tempair units were proposed to eliminate the pipework installation both in the basement and on top of the drum. The self contained heat pumps do not require external water pipework and are pre-wired with all controls. to reducing the pipework installation both to the roof was to select the Tempair Heat pump units for the fresh air supply.